This post was written for The Rentables Apartment Blog as the fourth part of a series entitled "Building Your Real Estate Investment Team."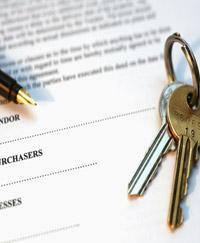 If you've been following this series, you may have already lined up your financing for your next investment property purchase and began looking for a property with your Realtor. In part 4 we'll be taking a look at what you'll want to find in a real estate lawyer to add to your team. Regardless of whether you structure your deal in a simple or complicated manner, you'll at least need a lawyer to close the deal.
When looking for a lawyer to handle your real estate needs, you want to be sure to find someone who is experienced in this area. Different lawyers specialize in different areas, so be sure to find a competent real estate lawyer who is familiar working with the type of properties you'll be buying.
Real Estate Investment Team selection criteria
Here comes a familiar list if you've been reading along in this series. Just like selecting other members of your team, you'll want to look for a lawyer who:
Owns investment real estate themselves
Cares about your goals
Has the appropriate qualifications
Has specific experience working with investment properties in the area
Has reasonable fees
Provides positive chemistry
Why Add a Lawyer to Your Team?
If you want to buy property you'll need a lawyer to get the deal done. Beyond simply closing your deals, the expertise of a real estate specific lawyer will help you avoid many legal pitfalls throughout your investing career.
Beyond closings, lawyers can help determine the best structure for your real estate investment business based on your goals. They can also draft or review legal agreements between other business partners or joint venture partners, and even help setup syndicated deals if you ever decide to go that route.
Lawyer Compensation
Depending on the service you require, your lawyer will be compensated differently.
For a basic closing most lawyers have set rates and will be able to provide a fee schedule. Some even guarantee the rate so that if any additional issues arise during closing you won't be out of pocket for those extra expenses.
When you get into planning for legal structures or drafting and reviewing agreements an hourly rate is most common. Other arrangements include percentage based fees or contingency fees when dealing with probate or lawsuits and your representative will receive payment based on the outcome of a particular case.
Legal fees can add up quickly, so it is best to do some research and know what you want before working with your lawyer.
Finding a Lawyer
There are plenty of lawyers out there, so simply finding one isn't difficult. You can either open up your phone book, search online or browse your local bar to get a name. The best way to go about finding a good real estate lawyer is to get referrals; specifically from other investors. Alternatively, if you've found a great Realtor who knows their way around investments, they should be able to recommend a suitable lawyer as well. Once you have a lawyer in mind,be sure to go through the criteria above and have a brief conversation to determine if this is someone you would want to work with.
Qualifications
Most professionals have some sort of qualification and legal professionals are no different. Which qualification you'll need to look for in a lawyer varies by region, but you'll want to ensure they are a member of the local bar in good standing. Keep in mind a referral from a trusted associate goes a long way, but you should always do your own due diligence.

Investment specific experience
Finding someone with investment specific experience to represent your legal interests is critical, just as with any other member of your real estate investment team. Make sure to find a lawyer who is very familiar with investment real estate, and preferably someone who owns real estate themselves. If they have their own real estate, they are most likely going to be well informed and will be able to relate to your specific needs as an investor.
With a lawyer in mind, consider whether they meet the 6 criteria above. If they do, setup a half hour consultation which is usually free. At this point you can come prepared with any questions or concerns you have and see if they pass your gut check. If you hit it off, see what they need from you once you have an accepted offer to work with.
Check back soon for Part 5 of Building Your Real Estate Investment Team where we examine what to look for in a Home Inspector.
Building Your Real Estate Investment Team Series:
Building Your Real Estate Investment Team – Part 1: Introduction
Building Your Real Estate Investment Team – Part 2: Selecting a Mortgage Broker
Building Your Real Estate Investment Team – Part 3: Selecting a Realtor
Building Your Real Estate Investment Team – Part 4: Selecting a Lawyer
Building Your Real Estate Investment Team – Part 5: Selecting a Home Inspector
Building Your Real Estate Investment Team – Part 6: Selecting an Insurance Broker
Building Your Real Estate Investment Team – Part 7: Selecting a Property Manager
Building Your Real Estate Investment Team – Part 8: Selecting an Accountant
Building Your Real Estate Investment Team – Part 9: Conclusion
If you enjoyed this post, get free updates by email or RSS.