We've kept this video under wraps until today when REIN officially announced Hamilton as the new #1 on their 2011-2015 Ontario Top 10 Investment Towns list. At the Toronto ACRE event a few weeks back, I caught up with Erwin Szeto who is best known as Mr. Hamilton to ask a few questions about Hamilton real estate. In this 9 minute video we cover:
What's going on in Hamilton?
What are the best investment areas?
What's happening with Hamilton's economy?
Which areas should investors still stay away from?
If you're pressed for time, I've also summarized some of the key points below the video.

Direct video link: http://www.youtube.com/watch?v=PHSNO8pCQR8
Video Summary
Here are a few highlights from this fact filled interview with Erwin for those of you who are pressed for time but still want to know more about Hamilton.
What's going on in Hamilton?
Increased GO Train service to Hamilton
GO Train extension to Niagara Falls
Additional GO Train stations
Proposed LRT (light rail transit) system
2015 Pan Am games projects such as Ivor Wynne stadium renovation
Speculative buying around Pan-Am projects already occuring
What are the best areas for investments?
Nicer single family homes found in Hamilton Mountain & Stoney Creek Mountain
Areas along "The Link" (Lincoln M. Alexander Parkway) and Red Hill Valley Parkway
Red Hill Business Park is a major hub for new job creation
What is going on with Hamilton's Economy?
Canada Bread company is bringing lots of jobs to Hamilton Mountain
New solar panel manufacturing company in Red Hill Business Park
Largest employer is Hamilton Health Sciences
Hamilton's steel industry accounts for less than 15% of the economy
McMaster Innovation Park is bringing high paying jobs to the city
What areas should investors stay away from?
Properties north of Cannon will attract a rougher tenant profile
Erwin's Bio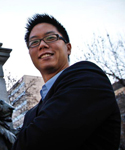 Erwin Szeto (@MrHamiltonDotCa) is a real estate investor who focuses on residential real estate in Hamilton. Erwin is also a resident of the area and a Realtor who works exclusively with investors which means he really keeps up with what's happening in Hamilton. As a member of the Real Estate Investment Network, Erwin understands the importance of key Hamilton real estate drivers such as  improvements to infrastructure, job growth within a diversifying economy, in-migration, and revitalization of the downtown core.
To contact Erwin visit www.mrhamilton.ca.
If you enjoyed this post, get free updates by email or RSS.