Any savvy real estate investor knows that keeping units rented is the first ingredient in the recipe for strong cash flow. It's also no secret that some units rent faster than others, but why?
In a North American study, tenants ranked the importance of each of five factors in their leasing decision. Many landlords are surprised to see how these five factors rank in terms of impacting a tenant's decision on which unit to rent.
How Tenants Choose a Rental Unit
There are 5 key factors which influence the leasing decision of a prospective tenant. Consider each of these items when purchasing and managing your own units and ask yourself a few questions from the perspective of the type of tenant you'd like to attract.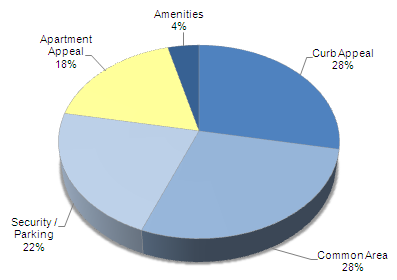 Source: Derek Lobo
Curb appeal (28%) – What is the general visual impression of the property when you first drive up? Does it look well maintained or run down? Does it look like a place you'd be proud to call home?
Common areas (28%) – In the case of an apartment building what condition are the common areas in? Is the lobby clean and well maintained? How about any hallways, stairways, laundry facilities and other shared elements?
Security / parking (22%) – How secure does the building feel? Do you feel at ease or is there a constant need to look over your shoulder? Would you be comfortable leaving your car parked overnight?
Apartment appeal (18%) – From the time you open the front door, what is your general impression of the unit? Is it clean and well maintained? Do doors, faucets and appliances work well? Does it look like the landlord cares?
Amenities (4%) – What features does the building offer? How does this stack up to the competition? What great amenities exist outside of the building but in the nearby neighbourhood?
What Landlords Can Learn
While the results of this study apply directly to apartment buildings, there are some important lessons for both single family and multi-family investors.
First impressions count. Over 80% of a tenant's decision is made before they even enter the unit. This means it is important to make sure curb appeal (and common elements in a multi-family building) are up to par before fussing over suite finishes. If the property looks like it is ready to be condemned, having a suite with granite counter tops, stainless steel appliances, oak flooring, and vaulted ceilings isn't going to help as your prospect blows their showing appointment and speeds off to the next address on their list.
Once your curb appeal is up to snuff, focus on providing safe units your target tenants will be proud to call home and you'll sleep well at night while the rents roll in month after month. To fill those vacancies quickly, learn how to market your rental properties by Selling the Sizzle, Not the Steak.
If you enjoyed this post, get free updates by email or RSS.